Salvation Army Ministry Continues in Myanmar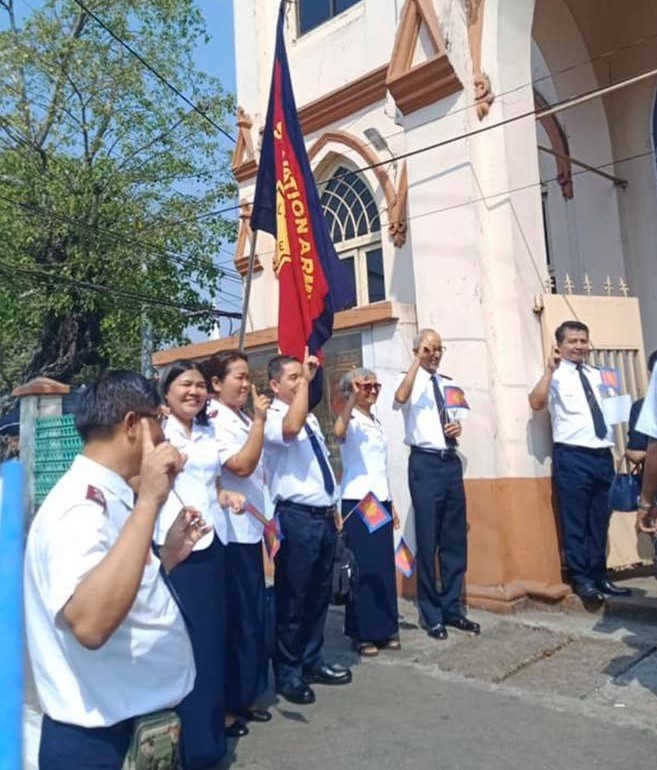 In the book of Ephesians, we read: "And he gave the apostles, the prophets, the evangelists, the shepherds and teachers, to equip the saints for the work of ministry, for building up the body of Christ, until we all attain to the unity of the faith and of the knowledge of the Son of God, to mature manhood, to the measure of the stature of the fullness of Christ."  (Ephesians 4:11-13)
In this spirit, the ministry of The Salvation Army continues in Myanmar through the work of our 41 Corps, 6 Corps Plants, and 3 Outposts.
In Matupi district, the Pakokkuk Corps recently sold homemade food to raise funds for the ongoing work of The Salvation Army.
With more than half of the world's population relying on rice as their staple food, the Kyun Daw Ye Shin corps in Tamu district planted rice to continue the supply of this essential resource for the country.
Meanwhile, in the Southern District, a Founder's Day celebration meeting took place with the soldiers and friends from Telegu Central Corps. New Junior Soldiers were also dedicated.
And a Women's Ministries Midterm Review took place in Kalay District to ensure the ongoing effectiveness of this vital work in Myanmar.
We continue to pray for all the ministry taking place in Myanmar in these days as the "building up [of] the body of Christ" continues.
Myanmar Cadets Welcomed into 'Defenders of Justice' Session
Five Cadets from Myanmar have been officially welcomed into the 'Defenders of Justice' session and begin their two years of training to prepare and equip them to become Salvation Army Officers. Training includes the teaching of theology, Salvation Army doctrine, and how to give effective pastoral support.
Here, the Cadets each share their personal testimony:
Cadet Htet Htet

I greet you all in the name of Jesus Christ. To God be the glory who has guided and blessed us. I would like to testify about one of the many experiences I have had in my life.
I live in a strong Buddhist area in the town of Bago. Our family and a few relatives were the only Christians in our ward. Since childhood, I have heard the gospel of Jesus Christ through Sunday School. When I grew up, I called on God for the challenges I faced in my life and tried to find answers to my prayers. God made me see and feel His hand of protection. I felt more secure through the words of Philippians 4:13, 'I can do all things through Christ who gives me strength.' This verse changed my life; I confessed by mouth and believed that Jesus Christ was my Saviour.
In my mind, I felt that so many people don't know God, and I wanted to tell them about the Salvation of God. This burden led me to submit my life as a servant of God. One day, as I was spending time reading the Bible and praying, God spoke to me through the scripture verses from Daniel 3:17, 18, which described the loyalty and faithfulness of Shadrach, Meschach, and Abednego. Their words touched my heart. It burdened my heart to tell people about the salvation of Jesus Christ, and the Holy Spirit led me to become a servant of God. So, I decided to submit my life as an Officer of The Salvation Army
May God bless you all!
Cadet Biakthantluanga
I am Biakthantluanga from Tahan Corps, Kalay District. I had long served as an office clerk in The Salvation Army Kalay District office, but had no intention of serving as an Officer of The Salvation Army. I always considered myself as an office worker, a labourer in God's service, so if my superiors needed help, I helped in any way I could because I always believed that this was a ministry.
But later on, I was no longer satisfied with my ministry as an office worker and wanted to dedicate my life to serving the Kingdom of God.
Even though the Officers and many Local Officers encouraged me, I always worried about how I will preach as an Officer and what I would do if something went wrong. At that time, God gave me courage through Psalms 37:5 "Commit your way to the Lord; trust in him, and he will do this." God gave me a sense of new courage to do His will and I trust and lean upon Him in all situations. For this reason,I was not satisfied with my life, so I decided to give my life as a full-time service for God's Kingdom. When I think about my life, I know that life is short and passes away as the smoke in the wind. I wanted to give my life for the sake of God's Kingdom as much as I could.
The words of William Booth – 'Some seek fame and fortune; some people look for wealth, but what I'm looking for is a lost soul' changed my life.
Cadet Khun Bo Gyoke
Greetings in the name of Jesus Christ.
My name is Khun Bo Gyoke, and I am from Taunggyi Corps in Central District. I especially thank god for giving me opportunity to share my testimony.
My two favourite scripture verses from Isaiah 6:8 and 49:6 changed my life, and I became a Cadet:
Isaiah 6:8 'Then I heard the voice of the Lord saying, "Whom Shal I send? And who will go for us?" And I said, "Here am I. Send me!"'
'It is too small a thing for you to be my servant to restore the tribes of Jacob and bring back those of Israel I have kept. I will also make you a light for the Gentiles, that my salvation may reach to the ends of the earth.' (Is. 49:6).
My purpose in life was to live in the service of God, doing my best to serve God as best I could.
I know the grace of God saved me, and I was sent to share this gospel with those around me, so I dedicated myself to God as a full-time servant. The founder of The Salvation Army, General William Booth, wrote: 'Let the business of the world take care of itself…My business is to get the world saved.' That is why I dedicated my life to God as a faithful servant.
May God bless you all!
Cadet Zoramthangi
My name is Zoramthangi, and I am from Taha Corps in Kalay District. I grew up in a strong Christian family, and my dream was to become an Officer of The Salvation Army since childhood.
However, I was scared and always shy, and my dream was almost shattered. In 2-15, I started learning about the Women's Ministry as Assistant Home League Secretary in Tahan Corps. I committed my life as Home League Secretary in 2016.I thought my responsibility was too heavy for me, and it scared me.
In 2018, I knelt at the mercy seat, and God called me for a full-time ministry. I still doubted, but the Lord spoke to me through Joshua 1:9, 'Be strong and courageous. Do not be afraid; do not be discouraged, I will be with you wherever you go.' The statement of our General William Booth encouraged me and dared me to go forward is that 'Some of my best men are women.' Though I am a woman, it enabled me to dedicate my life to a full-time ministry.
Cadet Ebenezer Thavan
My name is Ebenezer Thavan, and I am originally from Minhla Corps. I thank God for this
privilege to testify about His calling in my life. I have lovely parents who were serving the
Lord as Officers in the Salvation Army. So, I grew up in a Christian family. My Dad was
promoted to glory in 2008, and in that year, I accepted Christ as my saviour and Lord. On
that day, I received God and his call upon my life. I was encouraged when I read our great General William Booth's 'I'll fight! While there is a drunkard left, while there is a poor lost girl upon the streets, while there remains one dark soul without the light of God. I'll fight to the very end.' This statement helped me to become a missionary-minded person.
From that time, I committed my life as a Sunday school teacher and later as Y.P.S.M, and now dedicated as a Candidate to become a full-time minister. I believe that becoming a Christian is entirely free; faith in Jesus Christ is enough. But becoming a faithful follower of Christ is different. It might cost all that I have, all that I am. However, my response will always be "Yes".
God bless you.